Stan Lee Comic Book Writer
Welcome to StanLeeWeb.com, the home of everything to do with Stan Lee and the Marvel Universe.
We offer information from Stan Lee's biography to the right order in which to watch the Marvel Movies to follow the back story better.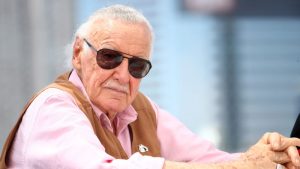 Stan Lee has been a huge influence on many peoples lives, not only through his comic book stories but also through his movies. He has created worlds where people can go to get lost into, get away from their own troubles and enjoy saving the world on a regular basis.
Not only are theme stories interesting, they are also collectable. Some people buy his comic books and keep them in wrapping to ensure they do not get creased or dirty, maintaining their mint condition status and thereby appreciating in value over the years.
Although a value on graphic novels cannot be guaranteed, especially when they go to auction, keeping one of Stan Lee's original print comics in mint condition can really but some cash in your pocket. A great example of this is the "Amazing Fantasy" #15 with the first ever appearance of Spider-Man. Prior to it going for sale the record sale for a comic book was less than $300,000, this one sold for $1.1 million.
The highest selling comic books tend to be those who are introducing a new character. It is a small piece of history when a new Marvel character is introduced to the world, so if you want to own one of these, expect to have to dig deep, they do not come cheap. If you collected comic books as a child then head to the attic or basement, you may be storing the introduction of the Human Torch or better yet, the first ever Spider-Man immortalised on paper. It would be a great boost to any retirement plan.
Stan Lee on Screen
Stan Lee has a whopping 115 acting credits to his name so far, these do not include appearances as himself onscreen, such as in documentaries. He likes to make an appearance in his own films, and like Alfred Hitchcock can often been seen in a small cameo role, sometimes uncredited, but if you are quick you can see him as a bus passenger or a guy in a bar. He often ventures away from his own works, like the appearance he made in Chuck Lorre's award wining comedy series, "The Big Bang Theory" where he guests starred as himself, much to the delight of the characters who, as massive fans of comic books, hero worship him.
His life
Stan Lee's life has been filled with ups and downs as his comic books lost popularity, and with the massive response to the block busting movies which form a part of the most recent incarnations of the Marvel Universe (and a sudden re-interest in the comic books that started it all), his life is on the upside right now. At 95 he is showing no signs of slowing down at all.
The Geek Revolt!
Stan Lee's work was often considered to only be enjoyed by nerds and geeks. Reading comic books and saving mint condition collectibles was a pastime for those with nothing else going on in their lives. Well, those nerds and geeks live to have the last laugh. The Marvel Universe is now popular with those from all walks of life, and those who were smart enough to save their first print comics can really coin it in. Thanks to Stan Lee, the revival of Doctor Who and The Big Bang Theory some might say Geek is the new Jock!
How Marvel became a big inspiration for Software Providers
With movies, video games and of course comic books from Marvel has become huge over the years it was just a matter of time before games with Marvel themes would pop up at casino sites. Thor, Iron Man and other famous characters are guiding you towards the win in fun games with several paylines. To find out were to look for these games read reviews like this Voodoodreams review uk and rejoice in the marvelous (pun intended) world of Marvel slot machines!